I love that you can ride so many great distances when the trails are all open. Somehow it makes our huge city feel smaller. A car might physically go faster, but often bike routes leave you saying "I'm already here?!" to places that are otherwise stressful to get to.
START AT HERMANN PARK!
Living nearby, I start at Hermann Park near S MacGregor Way. To avoid traffic, head east under the pedestrian underpass onto the Brays Bayou Trail. Turn left onto Columbia Trail before making a right onto N MacGregor Way, then follow the signs again for the Brays Bayou trail, riding through beautiful homes, greenspaces, and sections of the medical center that are such a breeze to get through compared to car traffic.
VISIT SOME OF HOUSTON'S FAVORITE ART LANDMARKS
Stay on the Trail, and once you pass the University of Houston on your left, there's a little path I love veering off to visit some of my favorite stops. Turn left at Lidstone St, then left again on Carrolton Street, heading on down to turn right onto Munger Street. Keep going straight and eventually you'll hit Smither Park, and a little further down, The Orange Show—both these incredible art landmarks so unique to Houston.
ADD SOME EXTRA MILEAGE!
If you've got the energy to add another beautiful leg to the trip, hop back onto the Brays Bayou Trail and head west toward Mason Park. Eventually you'll be riding past historical cemeteries that are a sight to see.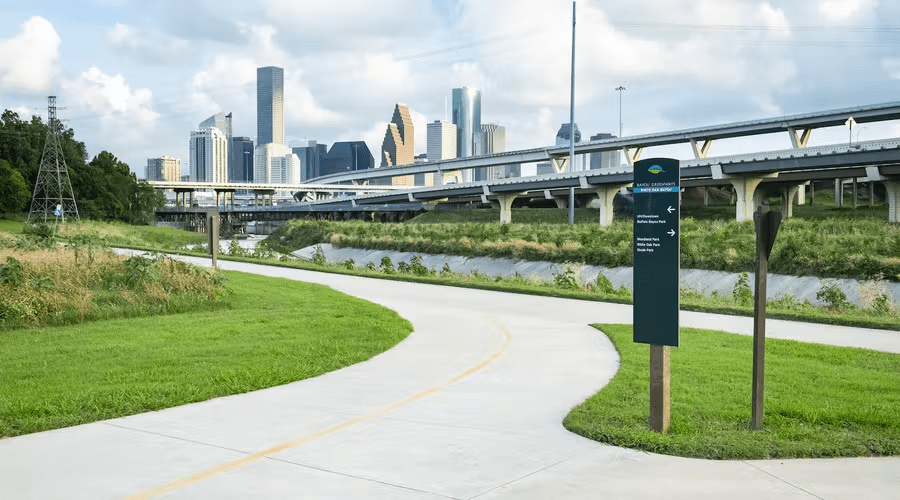 Thank you to Gabriel D. for inspiring us with his trip!