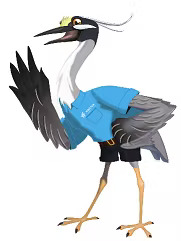 Welcome, Agent! What will you discover about Houston's Bayou Greenways today? Agents of Discovery is an educational mobile gaming platform that uses augmented reality to get youth active and outdoors. Houston Parks Board hosts pop-up missions at locations all over the city to help you and your family explore the outdoors in a safe and socially distant way! We also have an at-home mission to keep the exploring going after you leave the parks.
How to Play
1) Download the FREE app onto your smart device from the apple App Store or Google Play.
2) Select the mission you want to play
3) Visit the park or trail and walk along the mission's route to unlock and complete challenges along the way.
4) Have fun! Tag #ParksByYou and #AgentsofDiscovery to show us your adventures.
Click here to discover our current missions and join the Houston Parks Board's agent, the yellow-crowned night-heron!