We're the Madres del Parque—mothers who care about creating safe parks for the children of our community.
We started this program because we had been hearing stories from families about how our largest park in Gulfton, Burnett Bayland Park, wasn't clean or safe. We knew we had to do something. This is our home. We can take ownership of it. So we went through a leadership training with the BakerRipley Community Engineers program, gathered volunteers, and started cleaning up the park. We contacted Keep Houston Beautiful and they helped us with materials. Our work caught the attention of the Houston Parks and Recreation Department and they added some lights to make the park safer and more visible.
As we were working, we noticed an unused community garden right at the entrance to the park. We had a vision of turning it into a butterfly garden, but we didn't know exactly how to make it happen. I had been involved in Mayor Sylvester Turner's Complete Communities meetings, and that's where I met Lisa from Houston Parks Board. I told her about our idea, and she helped us make it happen by connecting us with the staff at Houston Parks Board, and through them, a garden designer.
Now, whenever we go out and tend the garden, we ask people what they think of the changes. They say, "It's looking cleaner and beautiful. We feel safer now." And that's really what we wanted. Kids will come up to us with their parents and ask what we're doing. They'll say, "I want to pick up trash, too. I want to water the plants." And for the last 3 months, we've noticed our recycling cans are being used. It wasn't easy at first. Gulfton is a diverse community with different cultures from all over. When you're not from here, it's hard to understand why recycling is important. I learned about it when I came here.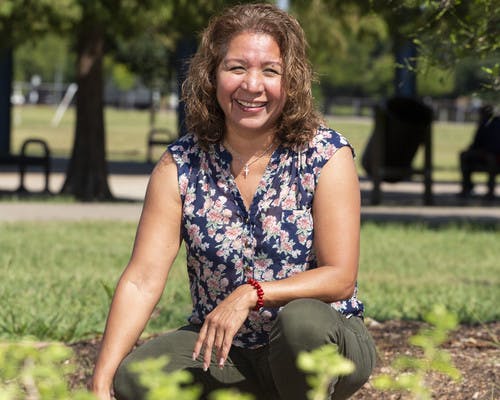 One of the things that inspires and empowers me is whenever I pick up just a tiny piece of trash. I feel some kind of energy and connection with the earth. I'm more aware of how powerful it is to be in contact with nature. I'm more aware of who I really am in this world.
I'm content. And I can share that energy with the people who are near me. We are all connected. This isn't for me. This is for all of us.
Thank you to Maria for sharing her story!